School Council
Our school council represents the views of all of our pupils, allowing them to have a voice about what is important to them.
The 2017 School Council have done a remarkable job over the year providing valuable feedback and leading school improvement from the children's perspective. They have been influential in various projects including: a litter picking initiative including the purchasing of new bins, a full refurbishment of the girls' toilets, interviewing short-listed candidates for teaching positions, meeting and providing feedback to our School Governors over a yummy school lunch as well as many more.
Re-elections took place in December 2017 and the 2017 School Council have handed over to their successors who are excited about the year ahead.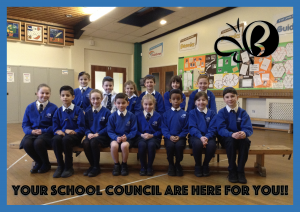 The 2018 Brodetsky School Council have already released a statement expressing their excitement for the year ahead and how they promise to make every meeting count.
"We would like to start off by thanking all those who voted for us and believed that we as a council could make a difference. We are very excited for all the changes that we would like to see happen in our school for the better of our school. One of our biggest aims is not just to do a lot of talking but to also act on everything we discuss during our meetings. If any students, from Nursery to Year 6, would like to make suggestions or comments, please feel free to come to speak to any of us with a school council badge on!"
– Brodetsky School Council 2018